NASA KY Student Research Projects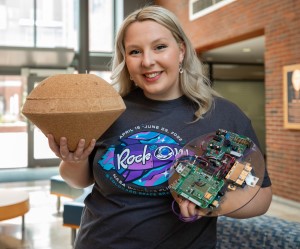 The NASA KY Space Grant and EPSCoR Programs support research opportunities for Kentucky's undergraduate and graduate students in a wide variety of academic disciplines.

Students interested in applying for a KY Space Grant fellowship to conduct NASA-related research at KY universities and colleges should discuss the opportunity with their professors.

A faculty mentor will need to submit a Graduate Fellowship (GF) or Research Experience for Undergraduates (REU) proposal as described on the KY Space Grant page.

All proposals and budgets must be approved by your institution's research office.

Kentucky students may also have the opportunity to participate as research assistants for NASA EPSCoR projects. Students should contact their academic department to determine if opportunities are available within their college.

Previously supported NASA KY projects are listed here:
NASA KY Projects 2016-2022 (pdf)

In addition to Kentucky Space Grant activities, college students interested in research can apply for NASA Fellowships and other opportunities.


NASA Kentucky Space Grant Consortium and EPSCoR Programs
Dr. Alexandre Martin, Director
University of Kentucky College of Engineering
151 R.G. Anderson Bldg (RGAN)
Lexington, KY 40506-0503
Phone: 859-218-NASA (218-6272)
E-mail: nasa@uky.edu
Director Emeritus:
Dr. Suzanne W. Smith
Associate Director:
Jacob Owen   859-323-4542
Accounts Manager:
Angela Back   859-323-4543