Welcome to NASA KENTUCKY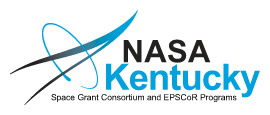 KY Space Grant Consortium and NASA EPSCoR
Advancing opportunities for NASA research, inclusive STEM engagement & workforce development in Kentucky.
Administered by University of Kentucky College of Engineering.
NASA Kentucky News
** NASA KY EPSCoR requesting whitepapers for Rapid Response Research (R3) **
** KY Faculty can apply for a NASA KY EPSCoR Research Travel Award to collaborate with NASA centers **
---
NASA Kentucky Projects 2016-2022 (pdf)
NASA-aligned research, education & workforce development projects supported by NASA KY at colleges, universities, and affiliates across the state.

Email Announcements:
Register with NASA KY on Mailchimp to receive news and opportunities via email.
Find previous email news on our archive page.
­Current Opportunities
NASA KENTUCKY SPACE GRANT & EPSCOR APPLY NOW!
RFP-22-006: NASA KY EPSCoR Rapid Response Research (R3) FY2023 (pdf) OPEN
RFP-19-003: NASA KY EPSCoR Research Faculty NASA Travel Opportunity (pdf) OPEN
RFP-22-005: NASA KY EPSCoR Research Infrastructure Development (RID) 2022 (pdf) CLOSED
RFP-22-004: NASA KY EPSCoR Research Award (RA) Pre-Proposals 2022 (pdf) CLOSED
RFP-22-003: NASA KY Space Grant Consortium Programs 2022-2023 (pdf) CLOSED
RFI-22-002: NASA KY EPSCoR Suborbital Flight Request for Information 2022 (pdf) CLOSED
NASA Opportunities for Students: APPLY NOW!
NASA STEM Current Opportunities
NASA Internships & Student Opportunities intern.nasa.gov
NASA Community College Aerospace Scholars Deadline varies
NASA Pathways Co-Op Internships Deadline varies
NASA International Student Opportunities
Exploring Careers @ NASA
All Grade Levels
NASA Opportunities for Educators:
NASA STEM Current Opportunities
NASA CONNECTS Network of Educators
NASA Educator Resources (All grade levels)
NASA K-12 Educational Resources
NASA Wavelength Earth & Space Science Resources
NASA EXPRESS weekly newsletter
NASA Higher Ed Faculty & Postdoc Opportunities:
NSPIRES NASA Research Opportunities
NASA Postdoctoral Program Deadline varies
NASA Minority University Research & Education Project (MUREP)
NASA for Higher Ed Educators
---
Announcements
• Read NASA EPSCoR Stimuli Publications on the NASA EPSCoR website.
• Visit the updated National Space Grant Foundation website to learn about new student opportunities.
• National Council of Space Grant Directors 25th Anniversary Space Grant Book is available online (PDF 25MB). Kentucky Space Grant Consortium featured on pgs. 38-39.
---
About NASA Kentucky
NASA Kentucky Space Grant Consortium
In partnership with NASA's National Space Grant College & Fellowship Program, the Kentucky Space Grant Consortium provides opportunities in aerospace-related research and education for Kentucky colleges, universities, community colleges, non-profits, and industry affiliates. More information available at NASA Kentucky Space Grant.
NASA Kentucky EPSCoR
Kentucky's NASA EPSCoR Program provides funding for NASA-related research projects within the state. Any Kentucky institution of higher learning is eligible to apply. More information available at NASA Kentucky EPSCoR.
---
Contact Us
NASA Kentucky Space Grant Consortium and EPSCoR Programs
Dr. Alexandre Martin, Director
University of Kentucky College of Engineering
151 R.G. Anderson Bldg (RGAN)
Lexington, KY 40506-0503
Phone: 859-218-NASA (218-6272)
E-mail: nasa@uky.edu
Director Emeritus:
Dr. Suzanne W. Smith
Associate Director:
Jacob Owen   859-323-4542
Accounts Manager:
Angela Back   859-323-4543
Follow NASA KY on Twitter:

@NASAKentucky